JoeyTritten

Aspiring PPT Creator

Posts

: 12


Join date

: 2017-09-19


Location

: Forgot

on Wed Sep 20, 2017 2:48 pm
15+ MATURE CONTENT (SWEARING, VIOLENCE, SOME SEXUAL REFERENCES)
WARNING MAY CAUSE SEIZURES!
MAY OFFEND SOMEONE ALSO!
Shoot Everything that Moves is an old political satire on rails shooter game I made quite a while back.
The game is a mockery of the British 2015 general election and EU Referendum where you play as Smithy, a unstoppable man of power
hired by the government to clean up crime THE HARD WAY!
BLAST THROUGH TWO LEVELS OF PURE ACTION AND BRING BACK JUSTICE TO YOUR STREETS OR SOMETHING!
My 'friends' thought this was funny and I thought this gem was too good to miss so, well.
Here it is!
DOWNLOAD:
[ltr]
https://drive.google.com/uc?export=download&
id
=
0BxrR27nJxhxmM2tJZWdTYUo0dlk
  [/ltr]
Ps: A spiritual successor to this game in on the way!
Screenshots: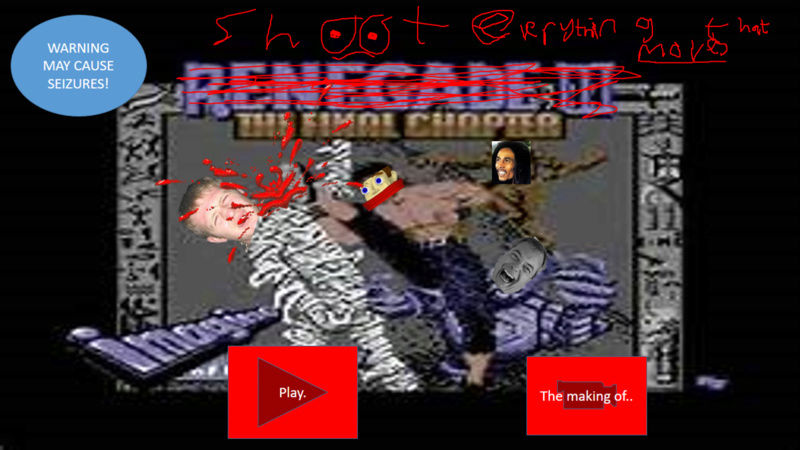 on Thu Sep 21, 2017 9:22 pm
Message reputation : 100% (1 vote)
Well, that was, different. I'm not quite sure what's going on, but I'm glad you and your friend seem to enjoy it!
on Wed Oct 11, 2017 6:08 pm
Hi Joey,
Glad you eventually made it to the forum.
Interesting game!  Unfortunately I never got very far into it as the people shooting me were much quicker than I was at shooting them.
Interesting political dichotomy situation of Smithy=player=goodie is also Camerons hit-man=Tory=baddie or is it vice-versa


??!!

Permissions in this forum:
You
cannot
reply to topics in this forum