I wanted to make a spinner where an arrow would spin and land randomly on a number.
All was going well until after a while the arrow kept landing on the same number! (See the picture for details).
Here's the PPTX file to download. Does anyone know why this is happening, and if can I fix it (without VBA please)?
ARROW SPINNER MYSTERY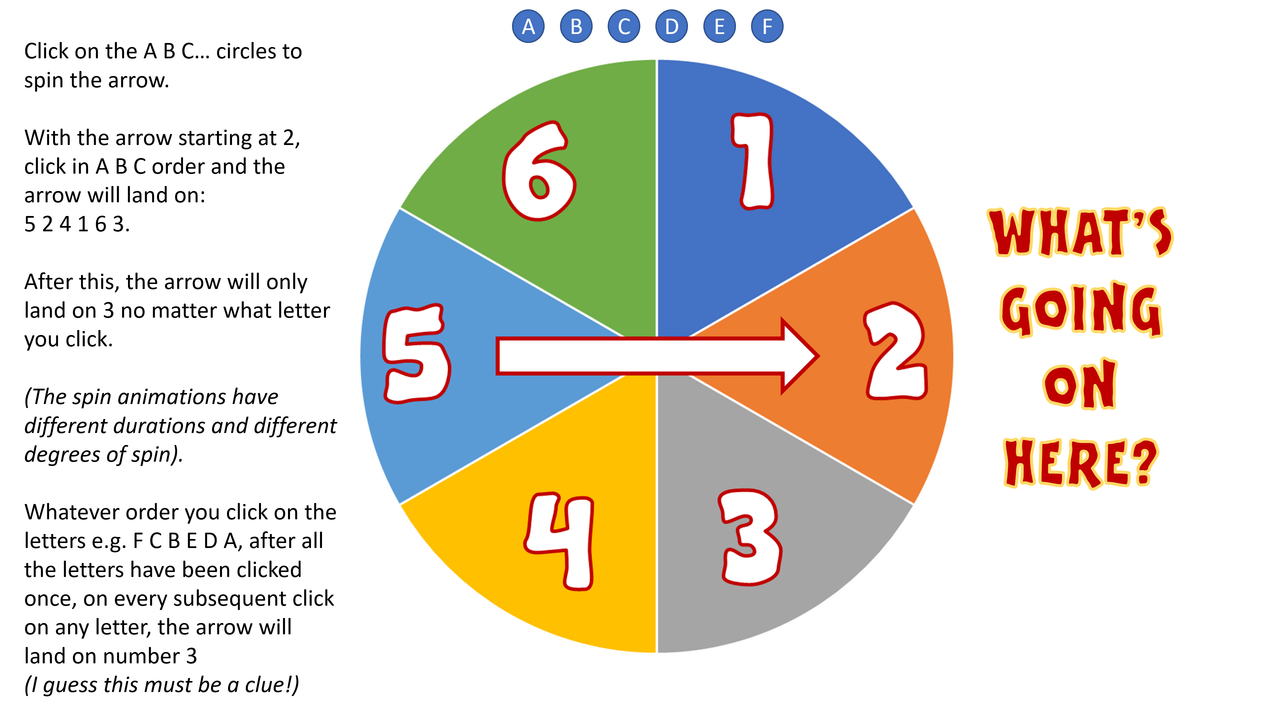 Sun Dec 06, 2020 10:08 pm
I just downloaded and played around with it. That is strange.

So here's what I've discovered:
As soon as you click one of the buttons, the next time you click a button that has been click at least once will repeat the last action, regardless of the animation you wanted to trigger. I have no idea why it does that. For example, click on A, land on 5. click on B, land on 2. click on A again, land on 2.

Things I've tried:
I tried removing the "on clicks" to see if maybe that would change anything, nope.
I also added a button to go to the same slide as a way to reload the slide, that doesn't do anything either.
Going to another slide and then back to the first slide doesn't change this weird animation anomaly.
The only way it seems to fix itself is leaving slideshow mode and going back in.

Something to consider trying:
Have more than one rotation animation under each trigger. When I first opened your file, you had another 6 animations that weren't triggered. The last thing I did was add them to the triggers so that each button has 2 on click rotation animations. It still acts weird, but this time it will cycle between the two rotations. What you could do is have 3 rotation animations per trigger, and then do your thing where you make the 6 buttons "randomize" via animation like rolling your dice should make it look like the arrow is landing randomly on numbers. There still is a chance of it landing on repeat numbers in the same spot, but at least with the multiple animations per trigger, shouldn't look as obvious.
Thanks for trying! At least I know it wasn't me missing something simple!

I'll do some more experimenting.
Check out the resulting tutorial on this
HERE.
It ended up with 6 spin animations per trigger.
Cheers!
Permissions in this forum:
You
cannot
reply to topics in this forum