A quick tutorial video on making a password / combo lock system without the use of VBA:


!C8Hypela/M!!fN+hj5w likes this post
Jarek

Featured Creator

Posts

: 248


Join date

: 2018-12-06


Location

: Poland

Here's an example of locks applied in a game. It took me a steep climb to learn that last year - and all along there was a video! A puzzle game I never finished which is based around locks. The idea is to link all the black PCs to the orange server. You do that by clicking on tiles turning them a quarter each time. Once alligned correctly they light up and you can go to the next screen. No VBA and no next screen.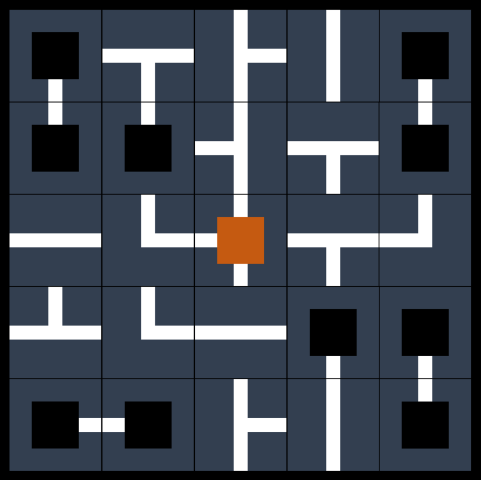 You can download the .ppsx file 
here.
!C8Hypela/M!!fN+hj5w likes this post
!C8Hypela/M!!fN+hj5w

PPT Creator

Posts

: 86


Join date

: 2021-04-28

Thu Mar 10, 2022 12:34 pm
Jarek, that ppsx might as well be finished and it would fit perfectly in
your minigame series
. The squares are very reminiscent to your maze games, which I really adore.
...Hold up, is that the fabled unfinished Minigame5 you were talking about? Wouldn't be surprised if it did, since it follows a similar aesthetic to the (supposedly) three previous installments. The "Squares" signature thing I mentioned, I mean.
Also, I got a fun idea for the missing menu screen. Worked on this since yesteryesterday, pulling my hair out trying to figure out how to make multiple-solutions work. On top of that, probably shouldn't have put that little easter egg which ends up taking too long just so it can work properly and not disrupt the other's logic system. (I can see why you're not finishing this game now)
https://drive.google.com/file/d/1KGnmbnyUfuzPXhWN6xf7JDiVhWEqRcam/view?usp=sharing
I've never been fond of the combo-lock mechanism, I thought it was unnecessarily complicated and not a really fun thing to play around with (Like, why would I want to waste time brute-forcing my way to figure out a combination to unlock something I didn't even know would even be worth my time?). Well, until that post right above me. That seemed fun and easy-to-understand enough to recreate.
Mii Production's LIGHT
was admittedly gorgeous, but it also makes me even more terrified to just try it out and experiment about with the mechanism.
Jarek

Featured Creator

Posts

: 248


Join date

: 2018-12-06


Location

: Poland

Fri Mar 11, 2022 10:16 am
Hey Hypela,
You're multitasking in your post with many threads. Let me answer in the order they appear:
1. 
Thank you for the compliment regarding the finished-unfinished ppsx and that you like my minigames 
. I wanted more screens to make the ppsx we're talking about even more enjoyable. Or perhaps use different grid sizes. For instance imagine a grid 9 x 9. This would mean 81 4-digit locks. The amount of work did turn me off although PPT's Animation Painter would be of some help.
2.
That's a clever guess about the missing MiniGame5! It was to be something else but why can't it be this one to fill in the gap?
3.
Your fun idea for the menu screen is very creative
. It additionally gives a taste of what's lying ahead. It's just that one instance where I'd hit the ESC key instead of trying to line up the Exit tile 
4.
Tutorials can be an excellent source of knowledge & inspiration. Particularly those that are coupled with real-life examples of an implementation of what is in the tutorial. That's when I personally start joining the dots. Too many tutorials available nowdays that leave you thinking "So what?".
5.
I guess I covered your post. Have fun with locks!
!C8Hypela/M!!fN+hj5w

PPT Creator

Posts

: 86


Join date

: 2021-04-28

Sun Mar 13, 2022 11:11 pm
Ouch, sorry about that. I tend to do uhh... full barrage(?) when it comes to expressing my thoughts.

Anyways enough said I suppose, locks rocks! xD
Permissions in this forum:
You
cannot
reply to topics in this forum