on Sun Mar 17, 2019 5:54 am
Message reputation : 100% (1 vote)
A few years ago I offered a challenge to work colleagues to come up with a well-known game that I would try to reproduce in PowerPoint. "Of course," I said "keep it reasonable and don't ask me to do something like Monopoly". At that time I couldn't have made Monopoly on PowerPoint. Having learned and developed some new techniques since then, making a Monopoly game has become possible.
Re-named 'Powopoly', it's a game for up to four players and uses PowerPoint functions and features rather than street names, and PowerPoint Versions instead of Railway Stations and Utilities. There are still quite a few traditional Monopoly elements though.
All I need to do now is add some instructions and the rules, and it's ready to make public. Some aspects of the original game have been simplified such as only needing to have two houses before you can buy an hotel, but generally the game-play holds pretty well to the traditional game.
Here's a screenshot: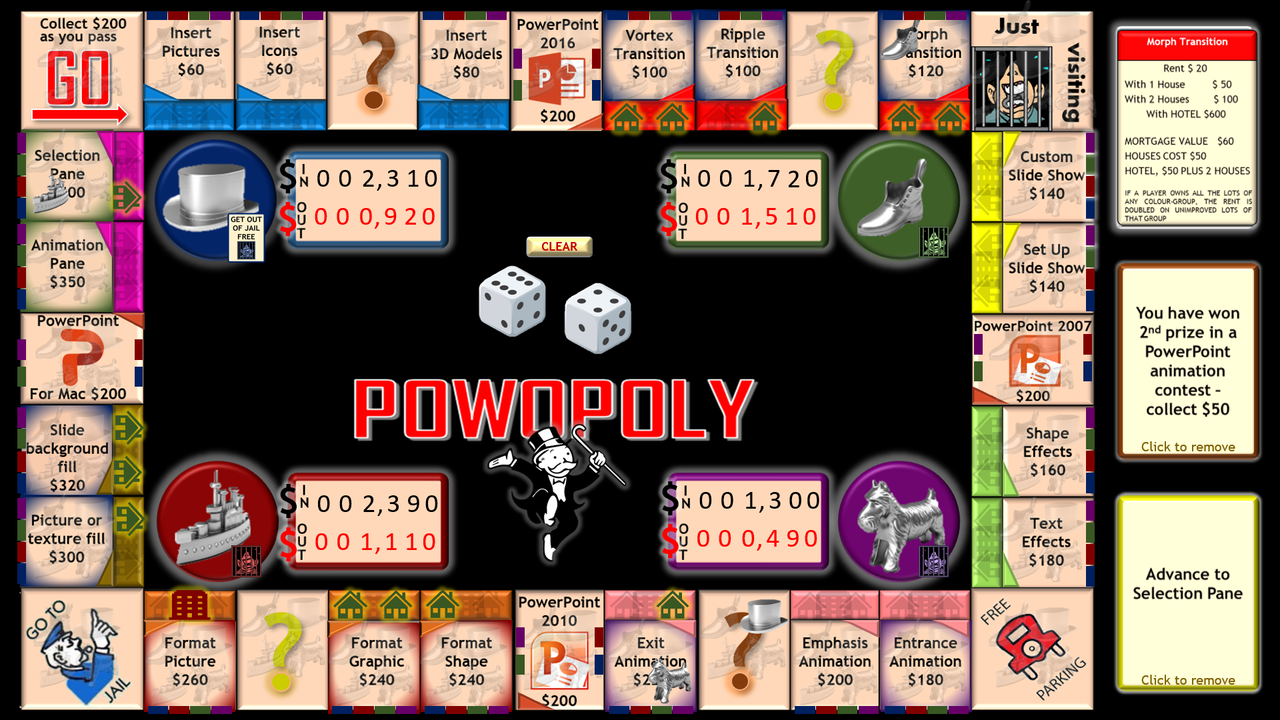 on Sun Mar 17, 2019 8:04 pm
*cringe*
While we're at it, let's try to replace some of those non-PowerPoint spaces...


Free Parking: Free Form (freeform shapes)

Jail: Clippy

...and some possible Chance cards...


You receive a year of Office 365 with your new laptop! Collect $100

Microsoft listened to your PowerPoint UserVoice Feedback! Collect $100

Your professor prefers Google Slides to PowerPoint! Lose $150 (the cost of of an Office license)

You've been animation...TRIGGERED! Lose $50

on Sun Mar 17, 2019 11:42 pm
Interesting to see how you have pulled this off without VBA. I also agree with Tim to really make it more of a parody of PowerPoint. Nice suggestions btw, Tim!
on Mon Mar 18, 2019 11:29 am
Thanks for the feedback guys. Sorry about the cringe factor for you Tim!
I've started work on the great idea about Clippy. You'll be glad to see he's now securely behind bars where he deserves to be!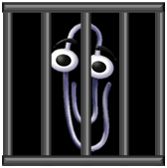 I also like the parody idea and the suggested Chance cards, but....I want the Chance cards to keep within the principles of the original Monopoly game and relate to 'realistic' reasons for paying out or collecting money. (E.g. I don't think Microsoft listening to my UserVoice feedback will directly result in my receiving $100 - or will it?). So...I'll try to make some cards that meet both criteria and if you have any suggestions along these lines I'd really like to hear them. 
I've concentrated so far on getting the game-play to match the original as much as possible and when I added a slide with the original rules (which I've adapted slightly) realised that I didn't have anything for mortgaged properties, so I've had to do some more work on that.
I'll post a link to the PPTX file when I can.
Btw- have you had a chance to look at the new
Horyd House
game yet?
on Mon Mar 18, 2019 4:35 pm
Here's a link to Powopoly - adjustments above not yet made apart from 'Mortgage buttons' which have since been added.
As you'll see, apart from a few simplifications, it's more-or-less a full Monopoly game and can be played to virtually all the original Monopoly rules.
POWOPOLY
As usual, download first from PowerPoint Online (which has changed recently) there's a new 'Open in PowerPoint' button.
djcharlou

I'm New to PPC!

Posts

: 1


Join date

: 2018-02-22

on Sun Dec 22, 2019 10:02 am
Dam ! That's an fu***g great job! U rock
Permissions in this forum:
You
cannot
reply to topics in this forum