Jarek

Featured Creator

Posts

: 156


Join date

: 2018-12-06


Location

: Poland

Thu May 21, 2020 10:51 am
Message reputation : 100% (1 vote)
Aditya - have you seen the mini game I posted as an example of using triggers? If not you can download it at the link I provided 4 comments earlier 
Download
Houtarou Oreki

PPT Creator

Posts

: 60


Join date

: 2020-05-02


Location

: India

Thu May 21, 2020 11:41 am
Actually I haven't downloaded it yet , cause my pc is busy letting my parents watch movies almost half a day lol
Houtarou Oreki

PPT Creator

Posts

: 60


Join date

: 2020-05-02


Location

: India

Thu May 21, 2020 11:42 am
Message reputation : 100% (1 vote)
Btw , I was thinking, why don't we do a Collab on this new game about "teaching to learn and apply ppt skills to make games"? What say john , yahretzky , rusnakcreative, Listwits?
Houtarou Oreki

PPT Creator

Posts

: 60


Join date

: 2020-05-02


Location

: India

OMG !! yahretzky , your game is so hard!! nice concept! i have created a similar game based on this concept ; but its not complete yet. will post that soon. BTW the title WAIT is suitable for this game 
Houtarou Oreki

PPT Creator

Posts

: 60


Join date

: 2020-05-02


Location

: India

Wait !! how in the heaven did you do the background layout thing !!! how did you changed the layout presets !!
how did you gave them trigger !!!
Jarek

Featured Creator

Posts

: 156


Join date

: 2018-12-06


Location

: Poland

Aditya
I will show you everything I've learned with triggers and stuff when I come back from my leave. I will be gone until June 8th or so.
In the meantime a little something for you (and anyone else) - a continuation of the ideas from my Mini Games series. If on the opening screen you select the yellow square you'll start the game from the beginning and then will have to complete each level to advance to the next. If for some reason you can't complete a level then you can quit the game and from a fresh start you can select the other squares to jump to the other screens for a try. This is still work in progress
.
Since I am currently inspired by triggers it's mainly about clicking! I'll leave figuring out of things to you. 
Enjoy!
MiniGames download
P.S.1 The game you found difficult is now easier to complete.
P.S.2 I removed the loading circle following johnr's and rusnak's remarks. Instead I extended the slide change times because I still think the instantaneous ZAP from one screen to the other is too frustrating when a player can't complete a level and keeps missing a beat.
PSA for all those excited about learning and working with triggered animations:
Take a look at the PowerPoint Challenge section of the forum!
https://powerpointcreative.forumotion.com/f20-ppc-challenges
Use these as inspiration for your new creations. Have fun, and can't wait to see what you all come up with!
Just for the record...I had no problem with the blue circle, nor the word 'Wait'. It's the word 'Loading' that I have an issue with - as there is almost never anything actually loading.
I have made some games that have so many animations that it does actually take a while to load. For example:
POWERDARTS
(btw, another one of my posted games that has absolutely no comments or feedback
).
According to my calculations, the main playing slide of Powerdarts has 683 triggers. The game couldn't have a loading screen because that would only be an additional animation to load!
You can't see them all but there are an equal number of blue and red darts.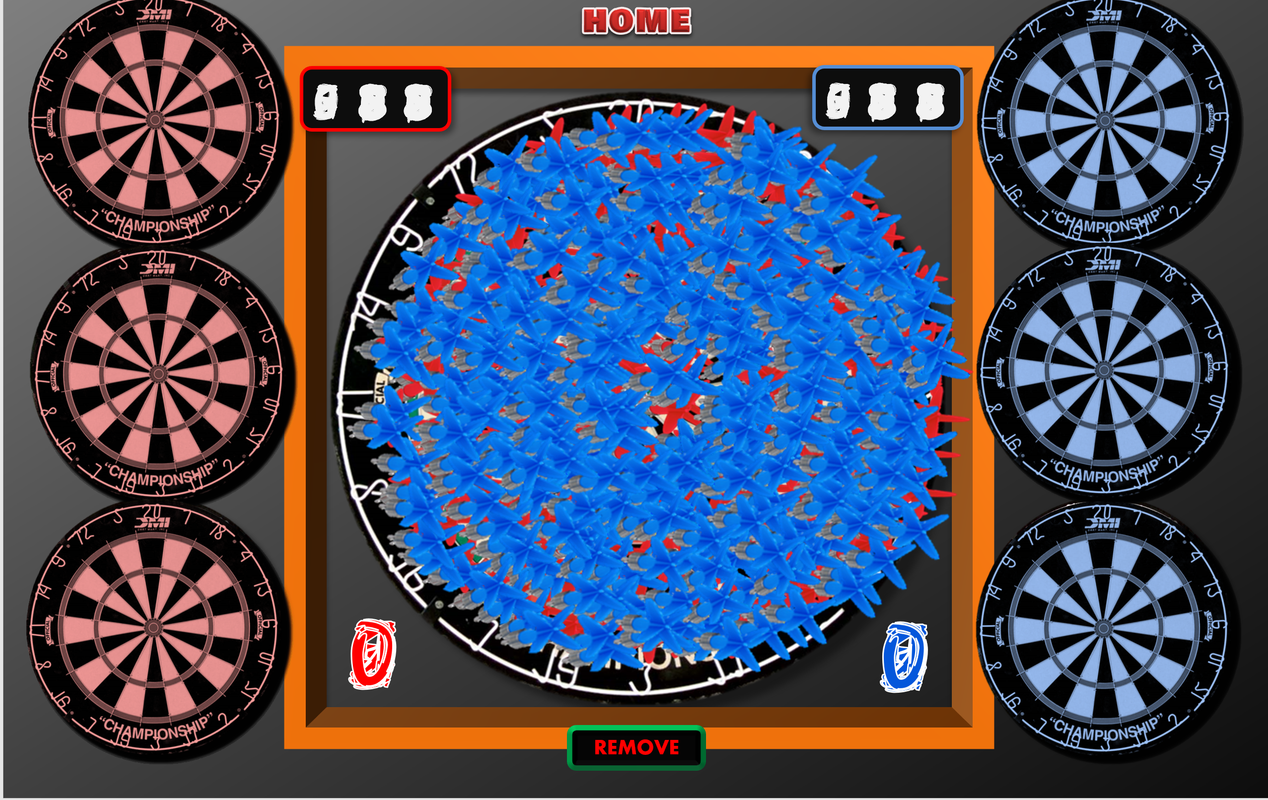 And.....keep a eye on the Challenges page!!!!
Back to Yahretzky's Mini-Game...

I love the style and the sounds of these games. I'm not very good a keeping a steady movement of my cursor but this version was a little easier than the first.

I like the precision and the rhythmic movement too.

Yahretzky: Hope you enjoyed your leave. Were you able to travel? We can't... can't stay anywhere overnight that is.
Jarek

Featured Creator

Posts

: 156


Join date

: 2018-12-06


Location

: Poland

Thanks John for asking!
All's good.
I wrote more in the Challenges section.

BTW - I removed the Mini Games links because those were projects under development. Hope you don't mind.
Permissions in this forum:
You
cannot
reply to topics in this forum